So we decided to do our version of the eat club. We are going to do a potluck theme dinner every month or so. It's really just the same friends that usually get together at the bluefoot and drink. The only difference is that we are going to every once in a while, get together at someone's house and drink and also cook and eat.
We did the first one on Friday, and the theme was 50s food. So I did appetizers. Devilled eggs, and I did those avocado devilled eggs too. I know, it's not traditional, but I wanted to do something a little more...different. So then I also did bacon peanut butter nubs on toothpicks. They are just pieces of bacon slathered with peanut butter and then baked in the oven.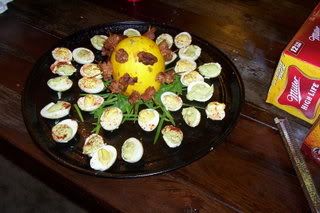 So I didn't tell anyone what was on the bacon, because I didn't want them to be freaked out before they tasted it. So they actually liked the bacon peanut butter nubs, unexpected as they were.
Amy brought spinach and artichoke dip with crackers, which is of course a winner no matter what decade you're in.
The next course was Jordan's iceberg lettuce salad, complete with chick peas and radish roses that they made, and Sarah's carrot soup finished off with cream. They were both quite tasty. If you haven't had iceberg lettuce in a long time, and you get it all nice and dry and cut into bite size pieces like that, it's great. Especially in the summer.
For our main course, Adam made meatloaf, carrots, peas and mashed potatoes. That was some really good meatloaf with that ketchup glaze. Veggies were very 50s like.
For dessert, the fp made pina colada milkshakes in, guess what, fresh young coconuts! They were made with coconut ice cream, fresh pineapple and myer's dark rum. Pretty tasty, but they were so big that only Adam and the fp finished theirs, since they have the ability to consume large quantities of alcohol.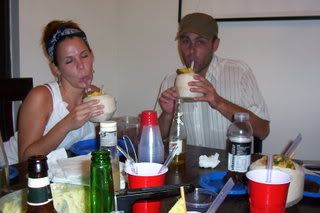 Anyway, it was a pretty fun night.
The next morning, we got up and had breakfast at the lumberjack grille. One of our local places. We both got corned beef hash and hashbrowns. Really good. They like sear the corned beef hash the way I like it.
After that, we had to work one of the food pimp's cocktail parties. It was across from Balboa Park in Banker's Hill. Some nice couple were having an open house for their neighbors that lived in the building. It was very easy, the FP put out the food, I poured wine. If I can remember the menu, it was: artichoke and parmesan bruschetta, aparagus with balsamic vinaigrette and shaved parmesan, cheese and fruit platter, chicken phyllos, goat cheese tartlets, lamb meatballs in romesco sauce, dessert pastries, and one more thing I can't remember. They loved the food, of course.
Then we went out that night and had sushi at Zensei. Mackerel, Salmon, Octopus, seaweed salad and hamachi kama - yellowtail collar. We had one of the first sakes that we didn't really like. I wish I remembered the name. It was clear, and it tasted kind of liquory, not as sweet as others.
Sunday morning, we woke up and went to Saigon. The FP really wanted a bowl of pho, but I screwed it up by ordering the whole fried fish. We always talked about getting it, so I did. But then it would be too much food, so the FP didn't order pho. I felt bad, but we had already placed the order. It was a big fish. It was pretty good, but I know he would have way rather had the pho.
Sunday night, I used leftovers for a light and healthy fried rice. I put bacon, edamame, onion, garlic, ginger, peas, soy sauce, vinegar and fish sauce in it. It was some greasy goodness.
Monday after work, I get home, and The FP is cooking. He was watching some cooking show, and decided he wanted roast chicken. So he bought a whole hen. He had rubbed it with Tony's and roasted it. Then he had braised some red cabbage, and he made a tomatoey rice with veggies and peas in it. It was a very nice Sunday roast dinner.
That's about it for catching up...