So memorial day weekend Sunday. The day after the crawfish boil. I know, that was a long time ago. I'm a busy food ho. I got all my fingers in everyone's stewpots and whatnots.
Sunday. The Food Pimp's dad drove into town. His job has the home office in Irvine, so whenever he's up there, he drives down here to take us out to eat, and then he basically drives back up. I mean, I understand that it's hard to take us for more than a few hours. So this time, he came down around brunch time. So we went to Urban Solace. I had not been there up until this point, but unfortunately, I would have rather gone for dinner my first time. Oh well, I'm not complaining.
So we went and waited for a bit at the bar for a table. The whole patio was full, but the dining room was sparsely populated, so I guess the patio was where it was happening. I quite enjoy sitting at the bar and having a drink first anyway. That's something we do often with the Food Pimp's family. I'm not saying they are alcoholics or anything. They do drink a lot when we are all together, I guess to ease the tension. And some of them drink a lot when we are not all together, I guess to ease the tension or something.
Anyway, the space itself is amazing. It was completely renovated to look like a French Quarter building in New Orleans. Except it's new, and standing straight, and I don't think there are any leaks or cracks or rats or roaches. The bar is pretty big, and if we had money I would probably go there more often and hang out at the bar. Here's a picture...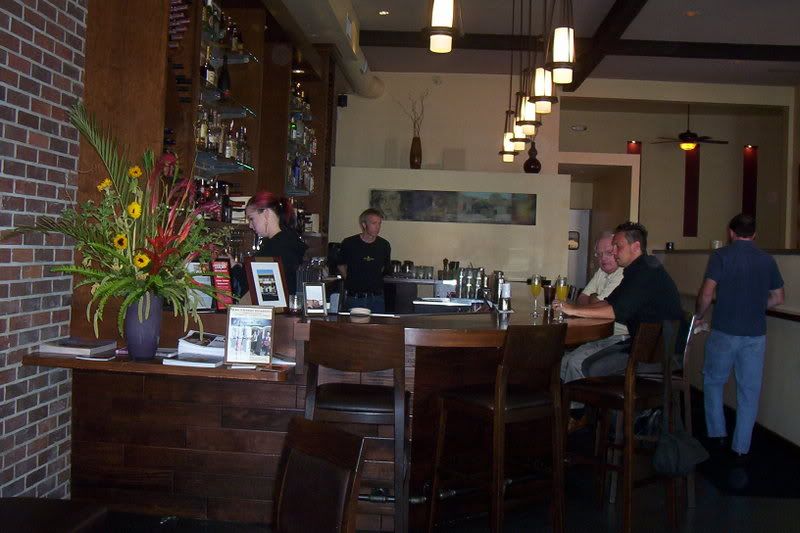 that's the dining room
So we had mimosas at the bar. Then the hostess was ready to seat us. I believe she let us transfer our drinks onto the tab for the table. I want to say that that is a very nice little extra thing. Like I said, I didn't pay for it, but I know how annoying it is to stop and let them ring up your tab, pay with your card, and then have a second charge for dinner. It's just easier to have one bill.
Anyway, we went outside to sit, and they placed us right in front of the band. It was like this bluegrass band with a mandolin and upright bass and all that shit. They were fine, but they were really loud. I'm really an old fart about that kind of stuff. If I'm eating, I don't like loud music. I want to listen to loud music when I'm listening to music. Even at bars, sometimes the music is too loud, and I can't hear any conversations. The problem is that I have the hearing of a 65 year old. So background noise drowns out foreground sound for me under normal conditions, say like talking on the phone. So anyway, I'm an old fart.
So we ordered. The FP got the mussels with smoked tomato butter and another mimosa. The FP's dad got the roasted pork loin sandwich. I got the shrimp with grit cake small plate.
So we were looking around. I think all the food coming out looked pretty good. I was excited to have shrimp and grit cake. I haven't had that shit in a long time.
So I believe our food came in a timely manner. I really don't recall. But anyway, it got to our table. The mussels looked nice. They were fresh. They were open. They had that tomato butter. It was good. Very nice dish.
The shrimp and chili grit cake. It was simple. It came with 3 shrimp, but they were nicely cooked. There wasn't really a sauce, but they were fine without it. The grit cake could have had a little more pepper in it. It tasted very similar to Herbsaint's grit cake. I don't know if they got Susan Spicer's cookbook or not, but they did a great job on the grit cake. It was nicely seared on the outside and still had a creamy texture on the inside. Very nice. Well executed.
Then the pork loin sandwich with caramelized fennel, whole grain mustard, and arugula on an egg bun with sweet potato fries. First the fries. They were great. They were crispy but cooked thoroughly. I love sweet potatoes fried. If done right, they come out nice. We used to put a basket of sweet potato chips on every table at the Mango House. People dug on that shit. We fried them pretty often and we held them under a low watt heat lamp so they arrived at every table nice and warm and still crispy. Anyway, the fries were great. Cooked properly and perfectly seasoned.
The sandwich. Luckily for the FP and I, the FP'd dad has all kinds of digestive discomfort a lot, so he usually doesn't finish his meals when we go out to eat. We weren't really hungry, but when the FP's dad gave up the second half of his sandwich, we jumped at the offer. The egg bun was nice. Soft and fresh, but not sogged through from the pork, like what sometimes happens. The pork loin was tender and flavorful and with the combo of fennel, mustard and arugula, that was an effing delicious sandwich. In fact it was the best in show! Just a well put together sandwich. It also took me back to Susan Spicer, and her gourmet market she had in... 1997 or so. It was called Spice, Inc. and she had amazing sandwiches with the best flavors and combos. That place was sadly way ahead of it's time. That was a fun job. The first week or so it was overstaffed in case we got bumrushed, so there would be about 5 of us standing around talking about food and stuff. And I got to take the leftover bread and sandwiches home!
Anyway, so the brunch menu wasn't really exciting. But what we ordered was solid. I hesitate on giving my chopsticks rating until I've had dinner there. I don't know what to expect, so there are no chopsticks to award at this time....