So last Sunday after eating at El Salvadoreno, we went back to Imperial Avenue for dinner. We went to that little stand called Birrias. It has mostly patio seating, and it's next to a mariscos hut looking place. So the menu says Se Habla English, se didn't habla mucho english, so we ordered as best we could. The menu is in spanish. So the FP got the huarache azteca. We weren't sure what it was exactly, but it read birria o pollo, so the FP said, goat? The guy said, beef. The FP said, do you have goat, yeah. The guy said, yeah, goat. So then we got the the birria de chivo, a half order, which comes with tortillas and consomme!!
So the huarache azteca is a tortilla with lettuce, thick slices of roasted nopales, cheese, beans and beef. So it was beef. This is not the type of thing we would normally order if we knew what it was, but it was really delicious. It was a nice little surprise. I'm glad we didn't know what it was. I think those nopales were the real star. They were so tender and yummy. I really love nopales, but I haven't figured out how to cook them. Sometimes it comes out good, sometimes it tastes like shit. I don't know if it's the cactus or the way I'm cooking it.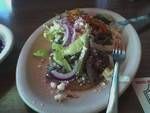 So what is birria? There are different translations of course, but what we got was goat meat stewed or steamed or somehow cooked in a chile broth. Then the consome is like the drippings with some beans in it.
I can't even explain to you what it tastes like. If you've never had goat, you might be scared and think it's earthy and gamey. Well, it can be, but this was just rich, meaty, chiley, goodness. Because it was steamed or slowly stewed or whatever, it was so tender, and pretty mild for goat, but really fantastic. Ha! I don't usually use that word, fantastic. Well, since it was spanish, it was Fantastico! It's like if meat heaven were a dish... it would be birria de chivo!
This is unfamiliar comfort food at it's finest. You know what I mean? Sometimes I eat something I've never had, but it gives me that warm fuzzy feeling, like when my mom used to cook in the middle of the night. I would wake up to find pot roast or something, and if it was done I would have some. That's what comfort is.
The consomme was delicious as well. I can't tell you how the essence of goat and chilis in a broth is just one of the most fabulous things known to mankind.
We also got a side of beans. They were whole pintos, not mashed, which is always a plus!
Anyway, if you're ever on Imperial Avenue, looking for Birria, there are a lot of places there. I only know this one, and I highly recommend it! Birrias Chivos & Cheves 2709 Imperial Ave, SD,CA 92102