So, Thursday night is typically american italian night. Not always, but if there were a regular theme to Thursday, that's what it is. I'm not sure why, it just kind of happened. I guess we just can't eat asian every single night because my repetoire for that and my resources and energy are usually severely limited.
So I was looking at the coconut and lime blog, http://coconutlime.blogspot.com/ and I saw sloppy joes. I was thinking american chop suey, but when I saw sloppy joes in one of the coconut & lime blog entries, I changed my mind. Sloppy Food Hos and blue cheese macaroni salad. I swear on my dead cat tiki's soul. He would have been going crazy if he were alive and me cooking ground beef. Well, Stinksy was very interested, just not quite the foodie that Tiki was....
Sloppy Food Hos
2 cloves garlic smashed
1/2 onion small diced
1.5# ground beef
1 t new mexico chile powder
2 t peri peri sauce (hot sauce)
1 T soy sauce
2 t salt
1 t Zatarian's creole seasoning
1/2 t cracked black pepper
1 oz rice vinegar
hot dog buns - you can use hamburger buns if you want, but I think the loose meat doesn't fall out quite as much in a hot dog bun. Of course you can use fancy bread too. I garnished with thin sliced sweet onion and blue cheese for the sloppy food ho in the picture, but I ate the second with just meat filling and hot dog bun - I thought it was better that way. It didn't need anything else, because the flavor is in the meat. So if your bread is soft, you might want to toast it. An important part it spooning some of the pan grease into your bun for the bread to soak it up. That is the really yummy extra that makes it deeeeeeeeeelicious.
So you know how to make this, right? I imagine that my readership is entirely made up of highly intelligent, very culinarily adept, could be mensa members.
Blue Cheese Macaroni Salad
6 c cooked macaroni
3 T dijon mustard
1/2 c mayo
2 oz blue cheese
1 T vinegar, optional if you like things very acidic - culinarily speaking
1 T hot sauce
1 fairly large carrot, shredded - not a porn-sized carrot, just a nice self pleasuring sized one
1 t Zatarain's creole seasoning
1 t salt
1/2 t cracked black pepper
Once again - you people are brilliant- no further explanation needed. So I ate this with the japanese cucumbers on the side. Yes, it's kind of uncool fusiony, but I swear these gingery pickles complemented the blue cheese macaroni really well.
The Food Pimp usually isn't a big fan of things like macaroni salad, but he loved this one - it was very pungent, vinegary, mustardy, blue cheesey. So if you don't like those flavors that much, use half as much of those ingredients.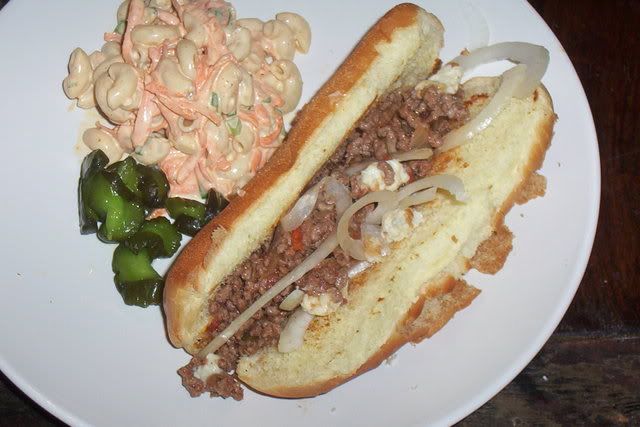 So don't make fun of this picture, I know it looks ugly, but it was really pretty good.