So Monday afternoon, the FP picks me up at work and we drive to LA to see Editors play at the Wiltern. This is an amazing art deco looking building on the corner of Western and Wilshire - thus, the Wiltern.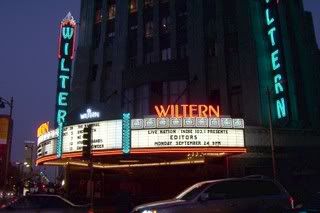 We've never been there, so it was a nice surprise to see that the venue and our hotel were a block apart in Koreatown! So we checked into our hotel, a kinda dumpy Ramada Inn with a cool facade.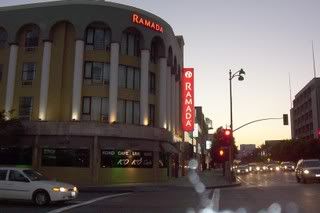 Then we drank the bottle of wine that the FP had brought. It was already evening, so we decided to get a drink somewhere nearby before the venue opened. Mostly, the area had Korean restaurants, sushi bars and stuff. We wanted something not too upscale, but not a noodle house. So we pass the Wiltern, and all we see is an upscale place. So we decide to head back to one of the sushi places and order sake. When we cross the street though, we are compelled to check out Soju Town.
The windows are tinted, so we imagine an uninviting, hole in the wall bar with only Asian booze and locals glaring at us. We walk in, and it is so completely different. It's pretty moderny looking. It's got a kind of V shaped counter, and every table setting at the bar and every table has an electric burner, and of course a hood. And the decor is metallic and red lights, very cool looking. So the drink menu has hot and cold sake, a few Asian beers, and soju. Soju flavored with fruits and things like plum, aloe vera, and cucumber. So I immediately want cucumber. So we glance at the food menu, and it looks great. I just see a bunch of octopus dishes, so we decide to eat, even though we were going to wait until after the show. We try to decide between all the octopus dishes, but the server tells us the stir fry is good, so we get that. The soju comes chilled in a teapot with slices of cucumber in it. I'm not sure how they prepared it, but it was very cucumbery and just delicate and refreshing. The only soju I had before that was room temperature and it was so strong. This stuff with the cucumbers, we probably could have knocked back a few pots of it. Then we got two side dishes. One was broccoli florets with a siracha sauce. Nothing exciting. The other was the yam? cake or rice cake thing. It was pretty good. Way better than it looked. Then came a little cast iron pot with egg in it. It was so amazing to watch. There was like a little broth and oil in the pot, then they seemed to have poured scrambled egg into the hot little cauldron, and it kind of steamed/fried. I wish I had a video of it wiggling and jiggling. I can't explain why, but it made me giddy and awed. Or was that the soju. Anyway, it was one of the best egg dishes I've ever had! Then came the octopus. It was like adolescent sized octopi. The tentacles were kinda long and thin, and it was stir fried with long green onions and other veggies with that essential Korean flavor. I don't know enough about this kind of cuisine to tell you what it is, but it's a very earthy flavor that reminds me of incense.
So after dinner, we floated to the Wiltern and went in to watch the show. It was amazing. Editors are so good live. If you ever get a chance to see them, go! There is no excuse not to. They have lots of energy and a big, big sound.
So after the show, we wanted to go for one more drink. But not much was open. As we are about to cross the street to our hotel, I hear these very LA looking people behind me go, "Oh, there's a Ramada here!" I wanted to laugh and say, oh, yeah, we're staying there. Anyway, we let them pass, and the bar downstairs was still open, so we went in. It seemed to be all locals in there. It was kinda nice, and it had this sweet karaoke setup, but it was late, so no more karaoke for the night. I had a vodka tonic, and the FP just wanted one more - so he had a shot of tequila and a beer. Then we were basically kicked out. The FP didn't realize we were in the lobby of the hotel....
So the next morning, we woke up and had breakfast a few doors down at Young Dong's Restaurant. It's one of those simple places that sells all beef soups. So the FP had beef cheek soup and I had oxtail soup.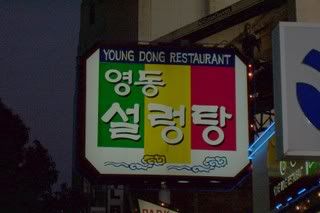 What you get is a big bowl of meat and like the broth that it was cooked in. So it has no flavor. On the tables they have the condiments, salt, chili sauce, chili flakes, green onions, and they brought another chili sauce, kim chee and a dish of pickled jalapenos. So you just flavor the broth the way you want it. It was so good. But so simple. We pretty much killed both our bowls of soup. When we were leaving, the FP told the woman serving us how great it was. These two Korean guys that were sitting there asked him, "You liked it?" He said he loved it. It's always a novelty to people in good ethnic restaurants to see a white boy digging on their food. Anyway, that ended our little LA trip, and we went home and the FP went to work and I went to class.
The FP's class was cancelled though, lucky for him. So he came home and cooked dinner. Country pork spareribs that were slow simmered, and a tomato chili sauce with julienne carrot, celery and green onion, and rice. It was very yummy. The next night we had the same thing, but we added chicken thigh meat to bump it up. The next night I just heated up frozen ravioli and canned pasta sauce.
Saturday we went to the Adams Street Festival. We brought some beers and plastic cups and walked around and looked at all the vendors and stages, kinda scoping the place out. We saw an Island Spice food booth, which was very exciting, and they already had a long line. We met our friend Marin, and we went to the Park Stage and watched this kind of contemporary reggae band. The sound mix was great - there was a trombone, tenor sax, keyboards, drums and guitar and vocalist - but you could hear everyone in the mix. The vocalist was good looking and had a really good voice - I kinda got the impression that he used to be in a boy band before he took up reggae. There was an old couple shaking their asses though, having a great time, and then some old guy in a tye-dye shirt was bopping all around the park dancing to the music. It was great. And then their last song was actually really good. Then we walked around more, went into a bar, then it was time to eat! We waited in line for Island Spice for maybe 8 minutes. It was so worth it though. The FP got the oxtail combo,I got the pork ribs, and Marin got the chicken kebab. All huge portions of meat, rice, cabbage and carrot, and plantains. The oxtails were rich and tender, the pork ribs had about 5 ribs with lots of meat, and the chicken kebabs were charred just enough. The plantains were so sweet and nicely cooked. It was a great day! After that, all there was left to do was to go to the Ould Sod and have a drink and wait for Marin's boyfriend to meet us there.